It is helpful to think about two types of contacts: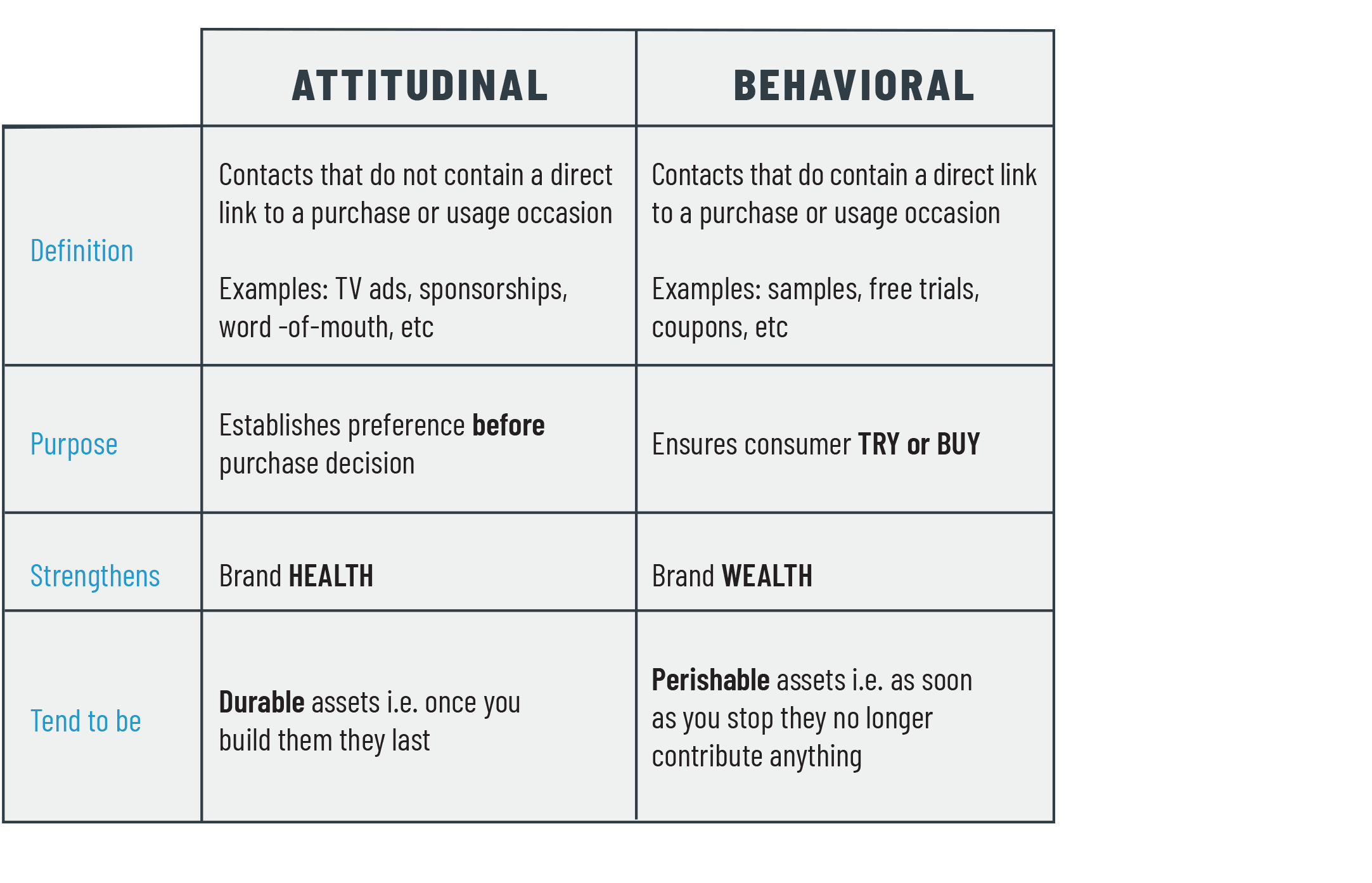 'ATTITUDINAL' contacts build awareness, interest and preference BEFORE consumers get to the store. These are long term value creators because they support a brand's premium (vs the retailer/ value brand). They can become durable assets if done well i.e. they keep contributing long after that activity has stopped (we all remember great TV campaigns for brands from months or years ago, right?)
'BEHAVIORAL' contacts encourage consumers to try or buy a brand i.e. stimulates a personal experience. These are critical to ensuring that consumers 'complete the journey'. However, they are perishable assets i.e. as soon as you stop doing them, they instantly stop contributing.
Every brand needs to activate a combination of these, and the best managed brands manage the balance between them to suit specific marketing tasks (e.g. different balance for launching a new product initiative vs supporting a promotion).
The characteristic of food categories that needs to be understood is that Behavioral contacts dominate the ranking of most influential contacts. i.e. consumers are prepared to 'switch their journey' based on the latest Behavioral experience they have.
In fact, we usually see that nine of the top ten influential contacts in food categories include incentives, promotions, trial & sampling opportunities. So what is the exception?
If you guessed Product Packaging you'd be right most of the time. The single biggest contributor of Brand Experience ™ in food categories is packaging.
It communicates strongly at purchase and at home, and delivers both brand and promotional messages.
If you guessed TV Ad, you are probably managing in a developing market environment, or in an Eastern culture. In Western developed markets you would be wrong.
So, back to our original question...how does this help us understand the challenges in Digital marketing better?
We provide a tool called MCA®, which provides quantitative metrics to help you understand the relative influence of your marketing communications activities.
It also tells you how effectively you are deploying them relative to your competitors and whether budgets are being well spent. This allows you to make more informed decisions to improve performance.
We looked at MCA Digital Deep Dive® studies completed in the last two years.
These provide quantitative metrics for digital contacts at a very detailed level, and benchmark them in relation to other groups of contact (mass media, point of sale display & promotion, word of mouth, sponsorship etc).
We found that the same dynamics are as important in Digital as they are in the offline world. You can use them to set priorities.
PRIORITY 1: BEHAVIORAL CONTACTS HELP CONSUMERS BE SMART SHOPPERS
DIGITAL CONTACTS THAT OFFER INSTANT BENEFITS ARE MOST INFLUENTIAL
Texts from retailers & brands (with coupons), online coupons & promotions
SHOPPING TOOLS ALSO INFLUENTIAL:
Daily deal websites, retailer loyalty app, comparison shopping app
PRIORITY 2: CONTEXT IS CRUCIAL TO ENGAGE CONSUMERS
BRAND WEBSITE IS THE MOST INFLUENTIAL ATTITUDINAL CONTACT
(it is the online equivalent of Packaging)
BRAND CONTENT IN RELEVANT CONTEXT
(e.g. recipe website, lifestyle & fitness etc) are higher influence than most Social Media dialogue platforms
PRIORITY 3: ADVERTISING FROM BRANDS ARE LOWER INFLUENCE
INTERNET DISPLAY ADS, ADS IN SEARCH RESULTS ALL VERY LOW INFLUENCE
VIDEO ADS POSTED, GAMING WEBSITE OR APP ARE VERY LOW INFLUENCE
When your team recommends their digital strategy, use MCA® metrics to make sure they have their priorities straight. Challenge the assumption that because people now communicate using Facebook, Instagram, WhatsApp etc, that brands should focus all their efforts to get into these conversations. You can end up spending huge time and money on the least influential activities. Want a preview? Let us know which brand(s) you manage, and we will check our database to see if we can show you how your marketing communications are performing vs our norms.