1. THE GAME CHANGER OF MARKETING IS 'LINE OF SIGHT'
Marketing has a pervasive and complex problem to solve:
THE JOB OF MARKETING IS DEMAND GENERATION, WHICH ACTUALLY MEANS TWO THINGS:
Brand HEALTH:
building long term durable brand attributes that generate preference, loyalty and the ability to leverage a price premium
Brand WEALTH:
converting this set of positive attributes into sales
COMPLEXITY ARISES because managers don't have clear 'Line of Sight' of how the multiplicity of brand experiences are helping consumers move through the journey to a purchase decision.

This complexity is continuously growing as digital transformation takes us into an ever more omni-channel world.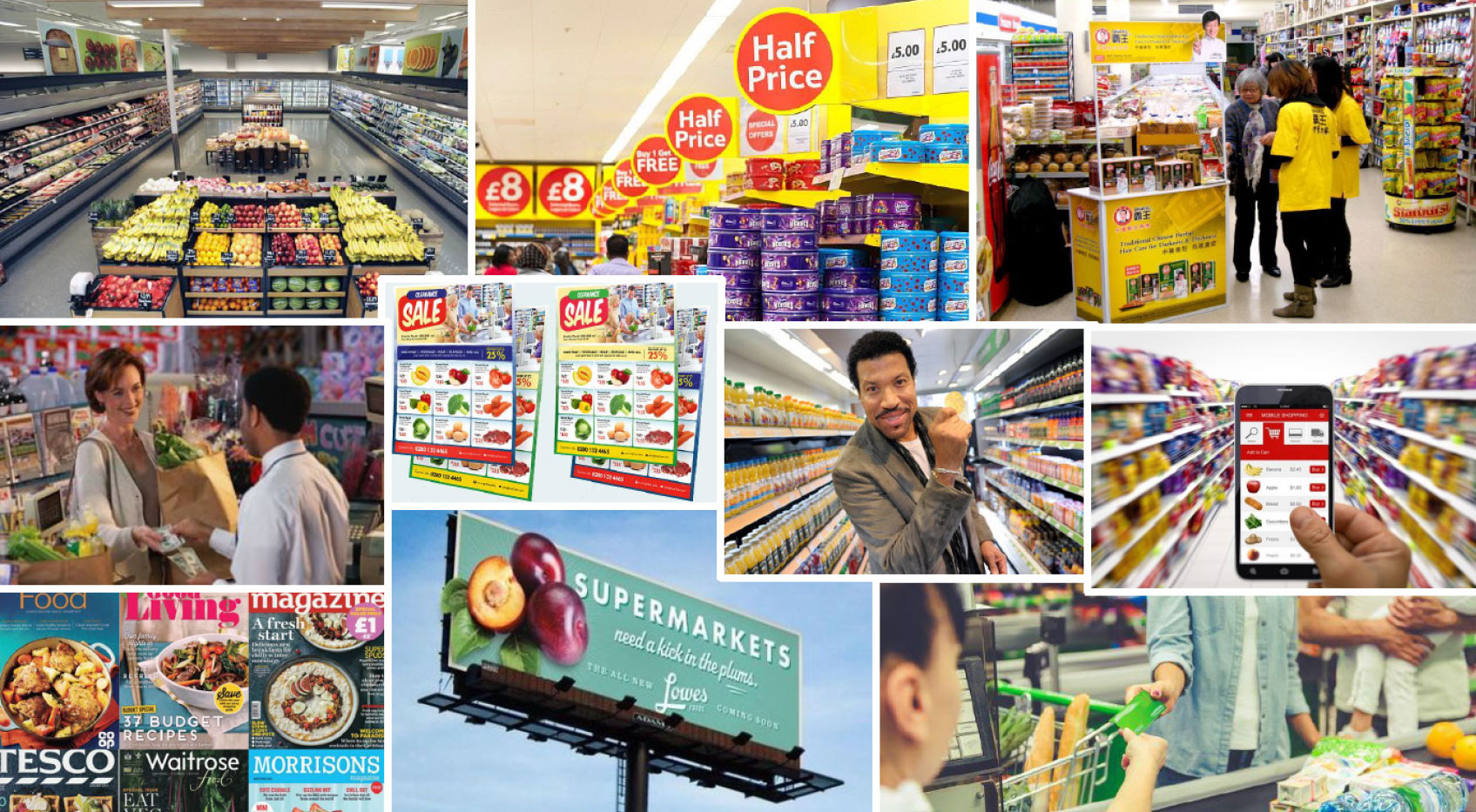 Take a typical example from the retail category (supermarket), which utilizes mass media, sponsorship, digital platforms, loyalty programs, in-store theatre, signage, staffed and electronic checkouts, online display, gondola ends, promotions, partnerships etc.
2. THE UNIFYING BRAND EXPERIENCE CURRENCY CHANGES THE GAME
The Market ContactAudit
®
(MCA
®
) provides 'Line of Sight' using a single currency of Brand Experience Points (BEPs) which represent the Voice of the Consumer (VoC), i.e., true 'Share of Mind'.
You get a clear 'Line of Sight' from what you put in to what you get out…, and most importantly, identify what activities are contributing to brand experience and sales conversion, and which are not.
It does this consistently across all consumer touchpoints, across all channels.
IT IS A GAME CHANGER BECAUSE IT PUTS THE VOICE OF CONSUMER AT THE CENTRE TO BUILD 'LINE OF SIGHT'.
MCA
®
users are able to answer three fundamental questions that enable better decision making, better performance and clearer accountability:
HOW EFFECTIVE ARE MY MARKETING COMMUNICATIONS AND BROADER DEMAND GENERATION ACTIVITIES

AT GENERATING BRAND EQUITY, AND HOW CAN WE IMPROVE? HOW EFFICIENTLY ARE WE USING OUR RESOURCES TO MAXIMIZE POSITIVE IMPACT?

WHAT CHANGES SHOULD WE MAKE TO OPTIMIZE NEAR AND LONGER-TERM PERFORMANCE?
It does this by, uniquely, providing the direct connection from activities to results through Brand Experience.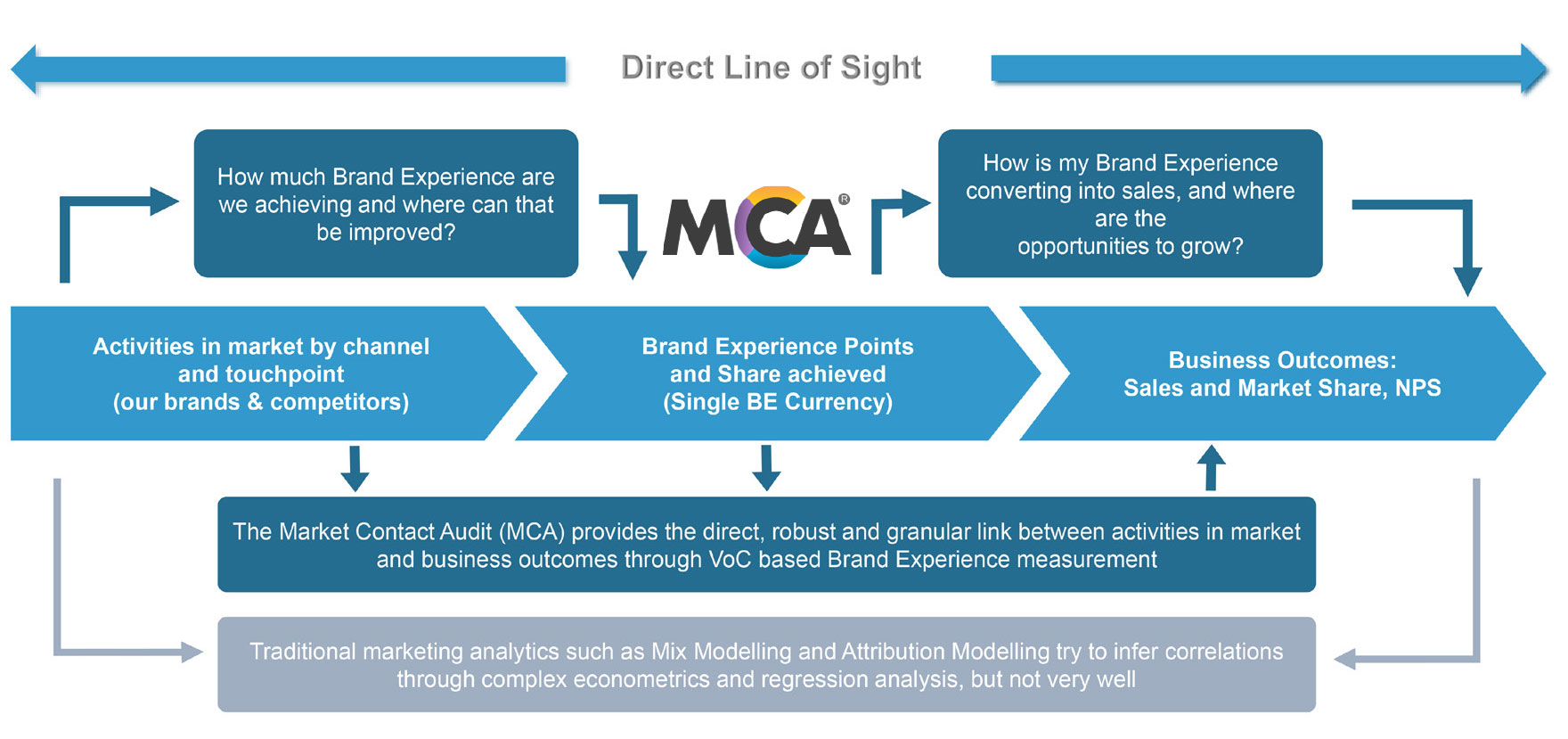 Managing with the MCA
®
results in improved demand generation and substantial cost savings. It enables a level of accountability across all demand generation activities that most companies can't deliver today. The MCA
®
approach and supporting analytics platform help identify and validate improvement opportunities in demand generation spend productivity, create the required buy-in from management and commercial teams, enable you to deliver results at pace, and help embed and sustain the required changes in commercial working practices.
3. THE UNIFYING BRAND EXPERIENCE CURRENCY DELIVERS EFFECTIVENESS, EFFICIENCY AND GROWTH
It answers the key questions about...
EFFECTIVENESS:
What is our BRAND EXPERIENCE SHARE (BES) versus competitors? This is hugely valuable because changes in BES are a proven early warning indicator of market share changes.
How much is each contact or touchpoint contributing to the total? Are we maximising synergies across touchpoints? Where is my brand winning/losing versus competitors?
SALES CONVERSION:
How competitively is my Brand Experience converting into sales (i.e. market share)? Is this competitiveness improving or eroding? A simple ratio comparing BES with Market Share reveals how well our assets in product/price/distribution are performing versus competitors
EFFICIENCY:
How efficient are different touchpoints at generating brand experience versus their costs, individually and collectively? Can we identify areas of wastage?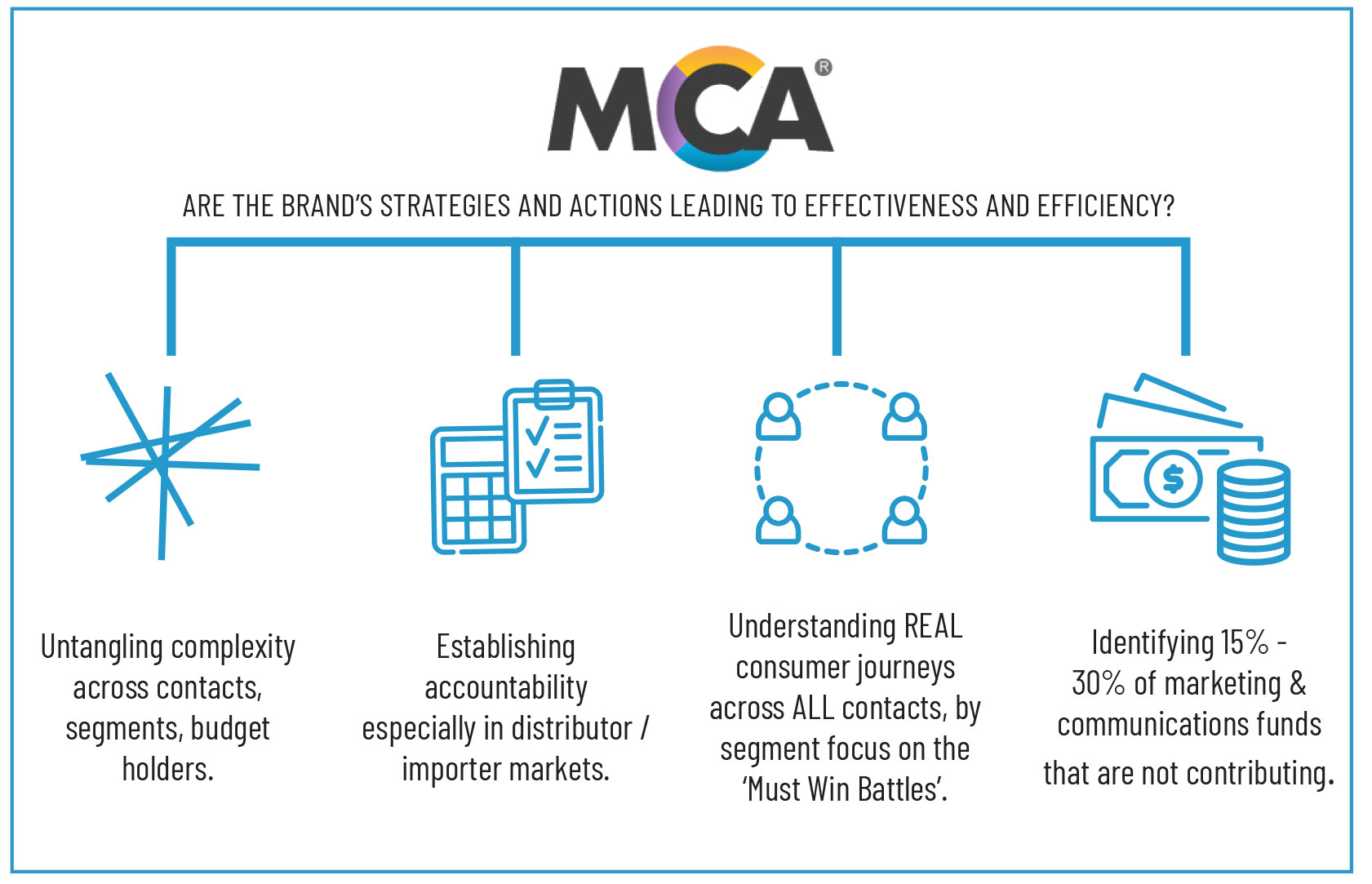 It provides clarity on how the complete customer journey is working, and where the 'must-win battles' are that will unlock better performance. It provides brand/segment specific understanding, not just category generalizations. It bridges and integrates across the offline/online gap that is so often a blind spot.
4. THE UNIFIYING CURRENCY INFORMS STRATEGIC AND TACTICAL PLANNING
BXG's MCA
®
platform provides key business indicators (KBIs) that point to growth opportunities, and diagnostics to reveal what actions are required and guide resource allocation decisions. This works in a simple, intuitive way to guide the strategic and operational planning processes.
It informs...
WHERE TO PLAY: WHERE ARE THE GROWTH OPPORTUNITIES?
Which markets, brands and consumer segments?
Which part of the mix is the priority to address - communications mix, product mix, sales mix?
HOW TO WIN: WHAT COMMUNICATION ACTIONS ARE NEEDED?
What is the brand experience share needed to achieve growth?
What are the key activities (must-win battles) to focus on that will enable us to deliver this?
PRIORITISATION: HOW TO ALLOCATE BUDGETS?
What do the metrics suggest for brand experience targets by contact and overall?
What is the right budget allocation based on cost and ROI per brand experience benchmarks?
Where are the non-working funds to be re-directed to fund priority activities?
The outcome is a clear strategy for where to play and how to win, what actions are needed, and how precious resources should best be allocated, all based on a transparent process.
5. HOW IT WORKS
The unifying Brand Experience currency puts consumers at the centre of the decision-making process, for brands as well as business management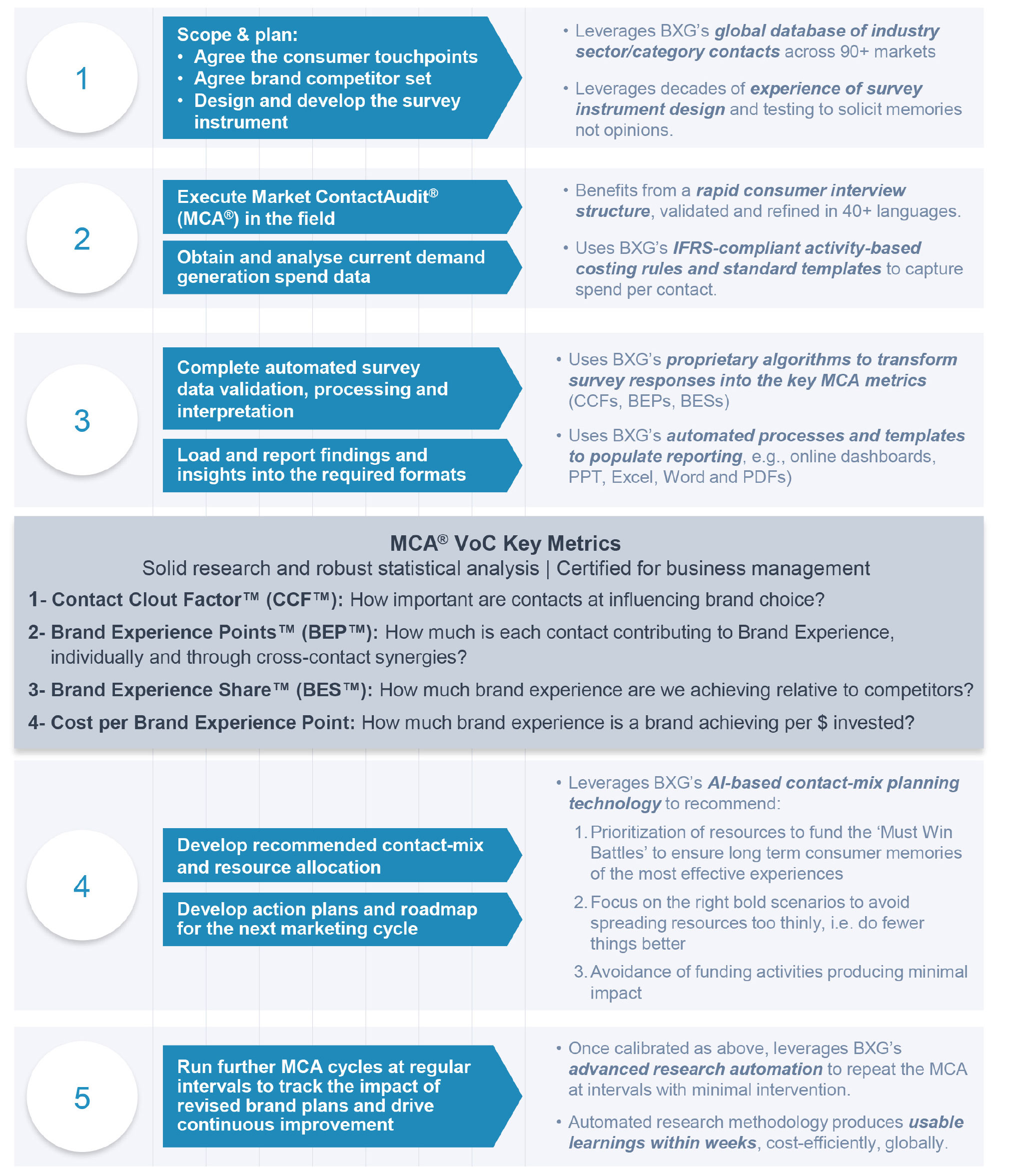 6. BUSINESSES CAN DEPLOY MCA® GLOBALLY WITH CONFIDENCE
The MCA
®
has been developed and refined with world-leading companies, so it is ready to be deployed and supported at scale globally.
ROBUST AND VALIDATED
Based on a deep understanding of how consumers make decisions.
Extensively validated by academia, by industry bodies, and by users.
RAPID, COST EFFECTIVE AND UNIVERSAL
Insights within weeks, embedding in ways of working from scratch.
Costs are much lower than market mix modelling and big data systems.
Can be deployed in any market or category as it does not require any pre-existing data
SUPPORTS LEADING BUSINESS PRACTICES
Leverages best practice business process principles such as, for example Six Sigma and Balanced Scorecard.
Provides essential inputs to Zero Based Budgeting programs, enables marketeers to justify support for brand building and activation.
Dashboards provide comparability across markets, categories and over time.
SUPPORTED BY CLOUD ENABLED SYSTEMS
Delivered in over 90+ markets, in 40+ languages and across all sectors.
Can be deployed in any consumer category and many B2B categories.
Deployed at local level, can be rolled up to regional/global brand, marketing and business/financial leadership.